Tommy Gate would like to acknowledge some of its many outstanding team members.
Tommy Gate is extremely proud of (and grateful for) the many wonderful men and women who work hard day in and day out to produce the best hydraulic liftgates in the world, here are just a few. 
June 2014 - Dennis "Harry" Harris - 40 years
Dennis Harris, Railgate Supervisor, celebrated his 40th anniversary of employment at Woodbine Manufacturing Company in June 2014. Harry was hired by Delbert "Bus" Brown, the founder of Woodbine Manufacturing Company and the inventor of the original Tommy Gate. Harry is a highly valued employee and Tommy Gate would like to say, "Thank you, Harry."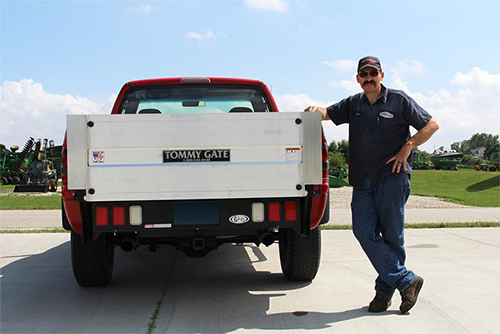 September 2014 - Larry Caddell - 25 years
Larry Caddell has been a valued Tommy Gate employee for 25 years. Since 1989 he's been working in the Woodbine Manufacturing Company plant, the same year he got married, by the way (and his mother bakes a strawberry-rhubarb pie that is out-of-this-world). Thank you, Larry, for all that you do!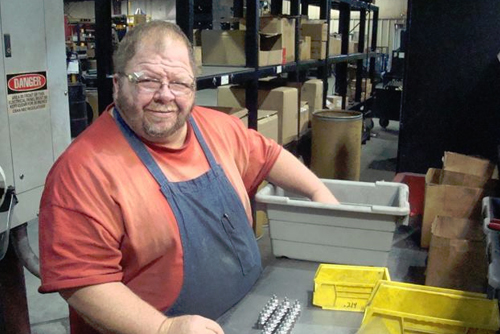 September 2014 - Tim DeForest - 15 years
September 2014 marked 15 years that Tim DeForest has been an employee of Woodbine Manufacturing Company. Tim has built all kinds of Tommy Gate lifts, and he currently works on the very busy Cantilever Series line. He also has an awesome wife, Emily, and four very energetic daughters: Lauren, Valerie, Elle, and Olivia. Thank you for all of your hard work, Tim.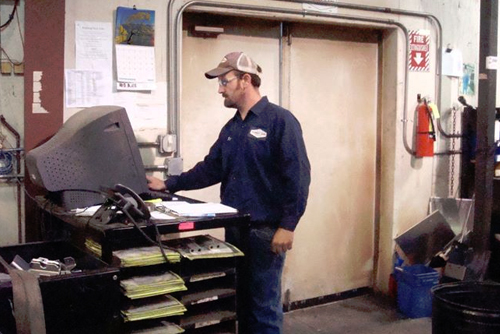 November 2014 - Wayne Mikels - 15 years
As of November 2014 Wayne Mikels has been a Tommy Gate employee for 15 years. Wayne works in the warranty department, which is not always an easy position, but he maintains the ideal temperament for it. And, on top of that, he farms a massive area of land few men could handle by themselves. Tommy Gate thanks you, Wayne!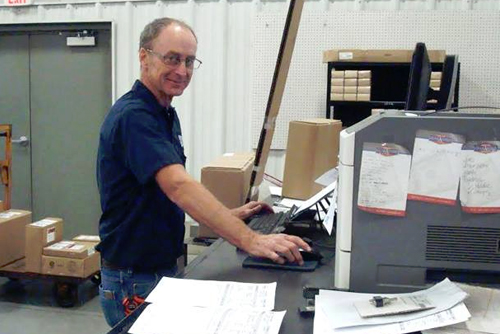 December 2014 - Steve Nelson - 25 years
Steve Nelson has been a dependable and quality-minded Tommy Gate employee for 25 years (as of this December). To quote plant manager Bill Wendt, Steve is "very talented and always looking for ways to improve product design." Tommy Gate thanks Steve for all of his effort over the years.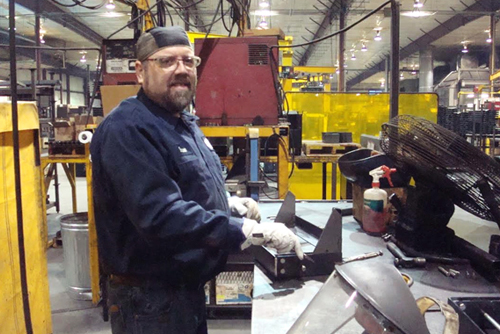 March 2015 - Karol "Woody" DeForest - 20 years
This March, Karol "Woody" DeForest has been a TG Employee for 20 years. Woody's daughter, son, and son-in-law also all work for Tommy Gate and in the past he has been overheard saying, "If there are gates to build, I don't understand why we don't just work 20 hours a day and get them done." That's Woody. And that's why we love him. Thank you, Woody!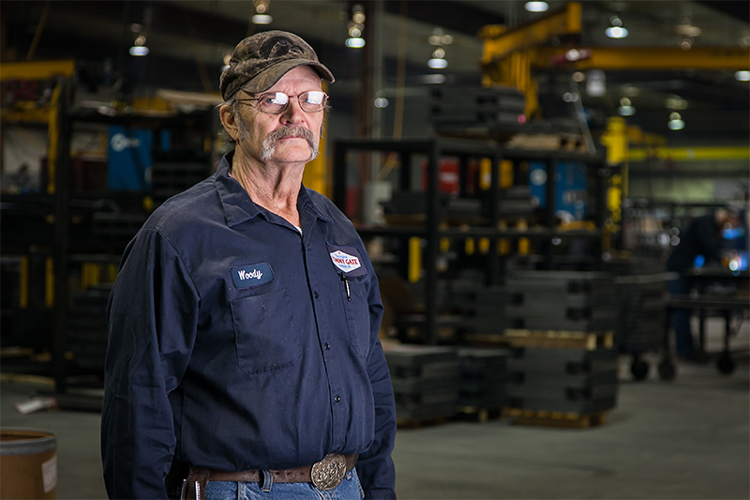 April 2015 - Troy Archer - 10 years
Troy has been a stellar TG employee for ten years (as of this April). Troy almost exclusively builds 650-Series model liftgates. If you've ever seen a 650, Troy has had his hands on it. His son, Zack, also works in the TG plant on the Cantilever Series line. Tommy Gate thanks you, Troy.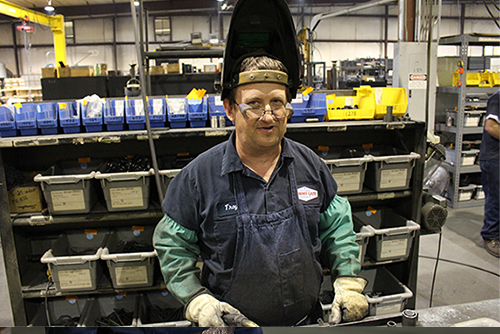 May 2015 - Bill Maaske - 15 years
Bill Maaske, the primary laser operator at the Tommy Gate factory, has been an employee for 15 years. Throughout that time he has been an extremely-dependable hard worker. Tommy Gate is very happy that he is part of the team! (And his daughter Megan recently set the Woodbine High School women's basketball career-scoring record). Good genes. Good genes.
May 2015 - Mark Jensen - 20 years
As of May 1st, Mark Jensen has been working at the Tommy Gate plant for 20 years. According to plant manager Bill Wendt, Mark has welded more aluminum than any other person at the factory and produces the work of a true artist. Mark works on the Railgate Series product line and is one of the reasons Tommy Gate hydraulic lifts are made as well as they are. Thank you, Mark!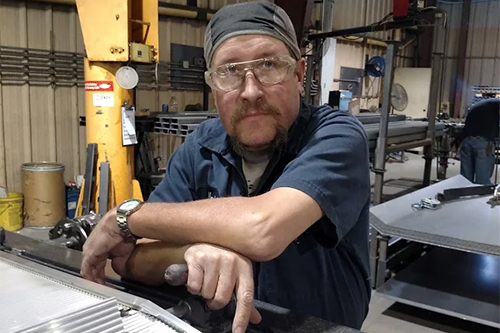 May 2015 - Andrew Fitzgibbon - 15 years
Andrew Fitzgibbon has been with Tommy Gate for 15 years as of this May. Last year Andrew became Chief Engineer for Tommy Gate and was integral in the creation of the new Tuckunder Series. He is a master designer, manager, and all-around, general problem solver. On top of all that, he farms and can teach you the Argentinian Tango, if you ever have the need. Tommy Gate is thankful to have employees so talented and diligent. Thank you, Andrew!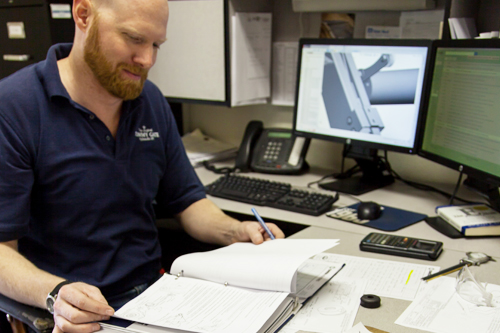 May 2015 - Dave Warmbier - 20 years
Dave Warmbier, the Receiving Quality Control Specialist at the Tommy Gate Factory, has been working at the TG plant in Woodbine for 20 years as of this May. Dave is the first line of defense in ensuring that all components in Tommy Gate lifts meet the highest standards and his extreme attention to detail makes him a perfect fit for the job. It also makes him an expert gardener, hunter, and fisherman. Dave harvests, processes, and stores all of his produce and meat himself. And, although an expert fisherman, Dave, according to Plant Manager Bill Wendt, is the most likely to lose his fishing pole in a lake on any given day. Thank you, Dave for all of your effort and dedication!
June 2015 - Carol Holst - 20 years
As of last June, Carol Holst, Customer Service & Sales Extraordinaire, has been working at Tommy Gate for 20 years. Carol is exceptionally pleasant, helpful, and knowledgeable. Oftentimes, customers will ask to be put on hold and wait rather than speak with anyone other than Carol. She is generous and caring with everyone she comes across and Tommy Gate considers itself very lucky to have her on the team. Thank you so much, Carol!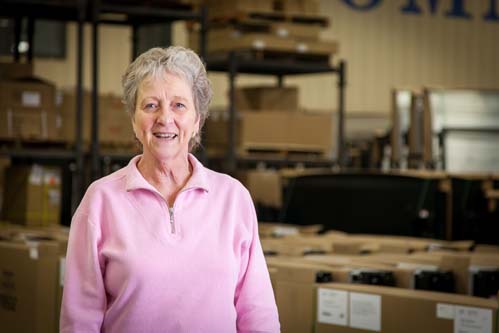 June 2015 - Shane Steinkuehler - 15 years
Cable Line Supervisor, Shane Steinkuehler has been working at the Tommy Gate manufacturing facility in Woodbine, Iowa for 15 years as of this June. Shane is the oldest of three brothers working at the plant and is incredibly skilled at coordinating his production line (not to mention a fierce competitor at horseshoes!). Tommy Gate is lucky to have employees so reliable and talented. Thank you, Shane.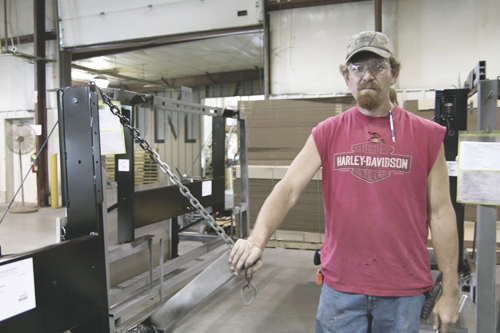 July 2015 - Peter Dunlop - 35 years
This past July was Engineer Technician Pete Dunlop's 35th Anniversary as a Tommy Gate employee. Throughout the years, Pete has worked on just about every facet of factory production (as well as set up the most sophisticated machines when they first arrive). He is brilliant, skilled, and always displays an exemplary work ethic. Plant Manager Bill Wendt says, "Pete is among the most important assets Tommy Gate has." Indeed. Thank you, Pete. Thank you.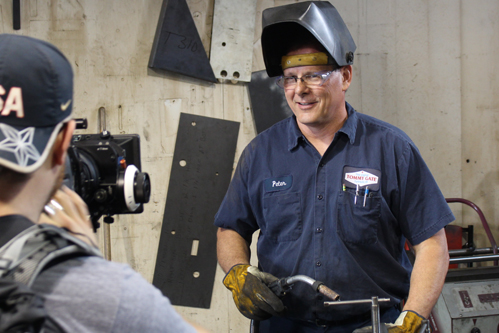 July 2015 - Barb Jensen - 10 years
July 2015 marks the 10th anniversary of employment for Shipping Tech, Barb Jensen. Throughout the years Barb has always been pleasant, courteous, and dependable. She is always looking for ways to improve the shipping department while helping those around her. Tommy Gate is lucky to have her. Thank you, Barb!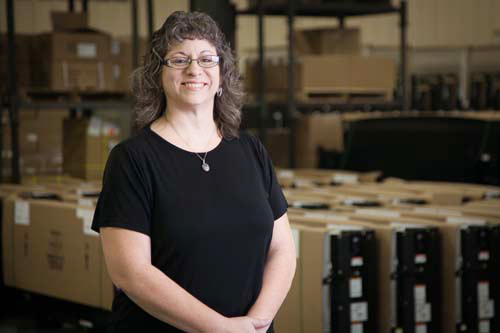 Tommy Gate is always working to design, build, and improve upon the finest liftgates in the world.
Accept no imitations.