Tommy Gate now offers a high-quality, galvanized finish for all Tuckunder Series liftgates.
Tommy Gate is proud to offer a high-quality, galvanized finish for all Tuckunder Series liftgates in order to support long-lasting performance and appearance in even the most extreme climate conditions.
In real world work environments, hydraulic liftgates are exposed to all kinds of corrosive elements that lead to rust and decay. One of the best ways to fight corrosion is to coat a liftgate with a protective layer of metallic zinc through a "hot-dip" galvanizing process. Galvanizing a Tommy Gate Tuckunder Series liftgate, combined with an extruded aluminum platform, ensures the highest degree of resistance to corrosion.
Galvanized Tuckunder Details:
Available models:  all TUCKUNDER SERIES liftgates
Available platforms:  Extruded Aluminum  (EA50 & EA60)
Multi-dip procedure performed by one of USA's largest custom galvanizers
Conforms to ASTM Standards:  A123, A384, A385, & D6386
Coating covers bolt-on deck extension, trunion tube, cylinder arms, and installation brackets
Brackets set at standard widths
Allow for extended lead time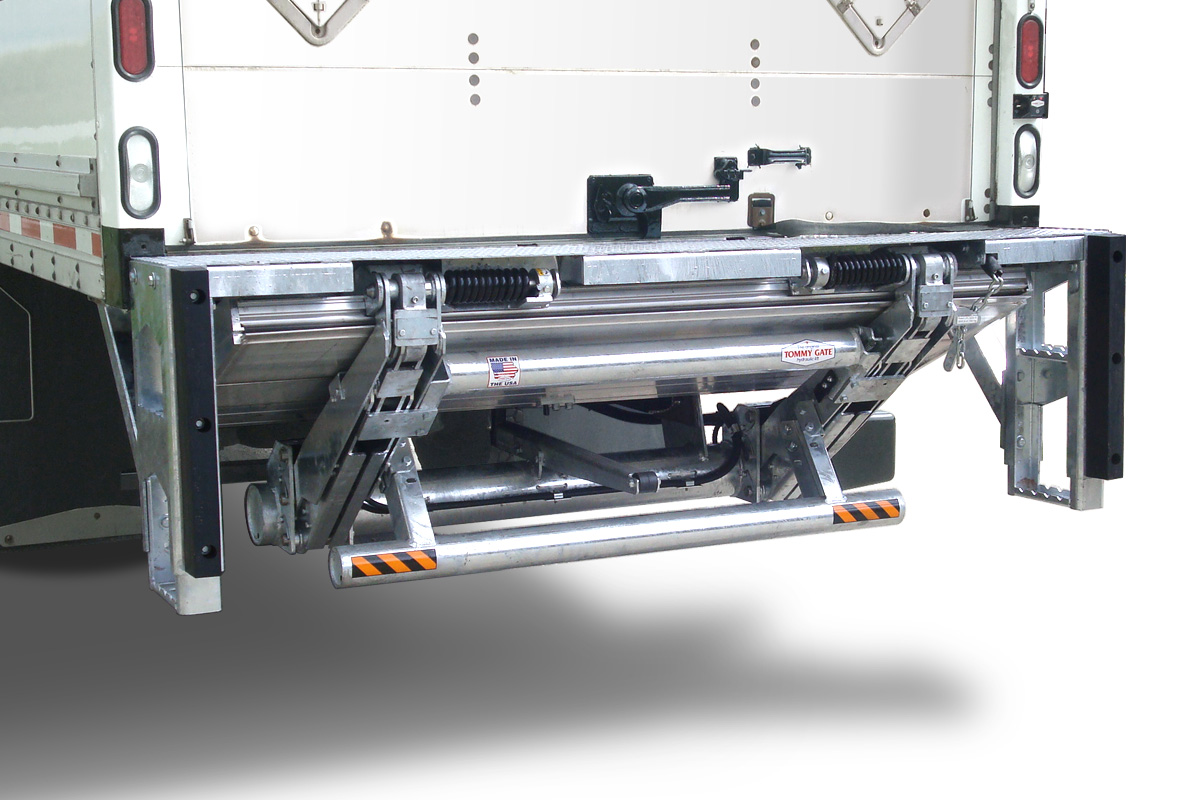 Other important Tommy Gate Product Updates, effective November 2015, include:
1. New Low-Profile Controls included on all High-Cycle Railgates
Within the past year Tommy Gate has launched two new products, the Tuckunder TKT and High-Cycle, BiFold Railgate. Those lifts were the first released with the recently-designed "Low-Profile Control" which will now also be included, STANDARD, ON ALL HIGH-CYCLE RAILGATE MODELS. 
The Low-Profile Control is a smaller control than the previous Fixed-Toggle Control and has increased the Inactive Shut-Off Timer from 90 seconds to five minutes to be of greater benefit for operators of commercial trucks.
VIEW AN IMAGE OF THE NEW LOW-PROFILE CONTROL.
2. Newly designed Cart Stop Option for all Railgate Models
Tommy Gate's Engineering Team has just implemented A NEW CART STOP DESIGN THAT APPLIES TO ALL RAILGATE MODELS. The new design includes a number of improvements:
Larger Roll Pin for easier activation
Corrosion-Resistant Pivot Point Bearings for more consistent action
Removable Flipper for easier replacement  (no longer requires cutting or welding)
Stronger Hinge Pins for beef-ier support
If you have any questions, feel free to contact Tommy Gate customer service at 1-800-LIFTGATE.
Tommy Gate is always working to design, build, and improve upon the finest liftgates in the world.
Accept no imitations.