How to identify the ideal liftgate model for your box van or straight truck.
When it comes to flatbed, stake, or box truck liftgate applications, the different vehicle configurations can be quite numerous (and individual lifting needs vary to an even larger degree). In order to find the liftgate that best suits ones needs, a few crucial questions must first be answered.
1. What will the liftgate be lifting?
Knowing what a liftgate will be lifting will help determine the required lifting capacity, platform size, and additional options. This is a vital step in narrowing down the number of compatible liftgate models for any particular use, but keep in mind that other factors will most likely restrict compatibility even further.
LIFTING CAPACITY
The standard range of lifting capacities for flatbeds and vans is between 1000lbs. and 3000lbs. When determining lifting capacity, it is a good rule of thumb to round up, and round up generously. The total sum of weight that will be put onto a liftgate platform must also be considered. For example, a transporter may have a 1200lb object they will be moving; however, if that object goes on a pallet and is then moved by a pallet jack, that could easily add another 200lbs. Now the total weight on the liftgate is upwards of 1400lbs. and a 2000lb lifting capacity may be more appropriate than a 1500.  
Required lifting capacity will greatly determine what types of liftgates a user will want to initially look at. If the liftgate will only ever be lifting 800lbs at a time, then the user has a wider range of lifts to choose from than if the necessary capacity is over 2000lbs.   
PLATFORM SIZE
Platform loading sizes are commonly listed as width x depth. Since the liftgate platform width is generally dictated by the width of the vehicle, the optional size is primarily "loading depth." Different styles of liftgates offer varying degrees of platform depth. Parallel-arm lifts may only offer up to 41-inches of loading depth whereas Tuckunder lifts or Railgates offer up to 60- to 70-inch depths.
When determining the necessary loading area, be sure to account for all variables. For instance, the load width on a Railgate may be listed at 83-inches wide, but if that model is equipped with a Self-close Arm, the true loading width may only be 80- to 81-inches wide towards the rear of the platform where that arm is located.   
PLATFORM MATERIAL
Liftgate manufacturers offer multiple variations of platform materials to suit different applications. Haulers of spillable liquids will need a material that allows liquid to pass through the platform loading surface whereas operators working in highly corrosive areas will need a platform that is resistant to corrosion.
LIFTGATE OPTIONS
If the object to be lifted is wheel-based, or on a cart, the inclusion of a Cart Stop or Retention Ramp is usually necessary. Most Railgate and Tuckunder models have these options available whereas Parallel-arm lifts may not. Conversely, if a Tire Rack is needed, a G2-Series model might have the perfect configuration and there is no need to look further.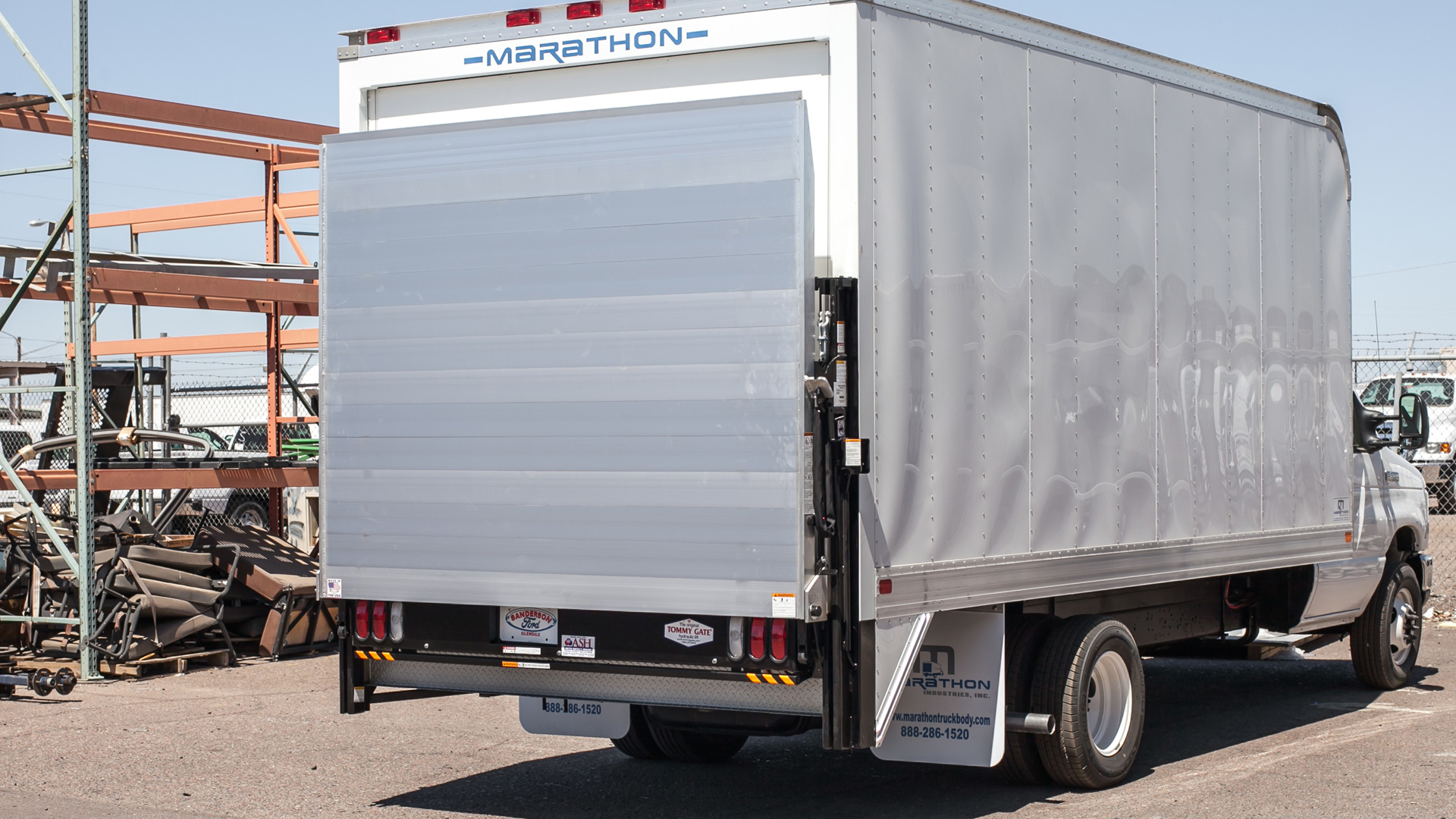 2. Will the vehicle need to load or unload at a raised dock?
The challenge many operators face is the need to load and unload both at a raised dock and at ground level. Various liftgate styles solve this problem in a number of ways. Tuckunder lifts, as their name suggests, store beneath the bed of the vehicle so as to never interfere with the rear of the truck meeting a dock. Certain Railgate models offer folding platforms that "drop down," or "drop away," to a non-obstructive position. In some instances, the truck owner's bed height may be lower than the height of the loading dock. In these cases, a Railgate model with an "above bed" option might be needed.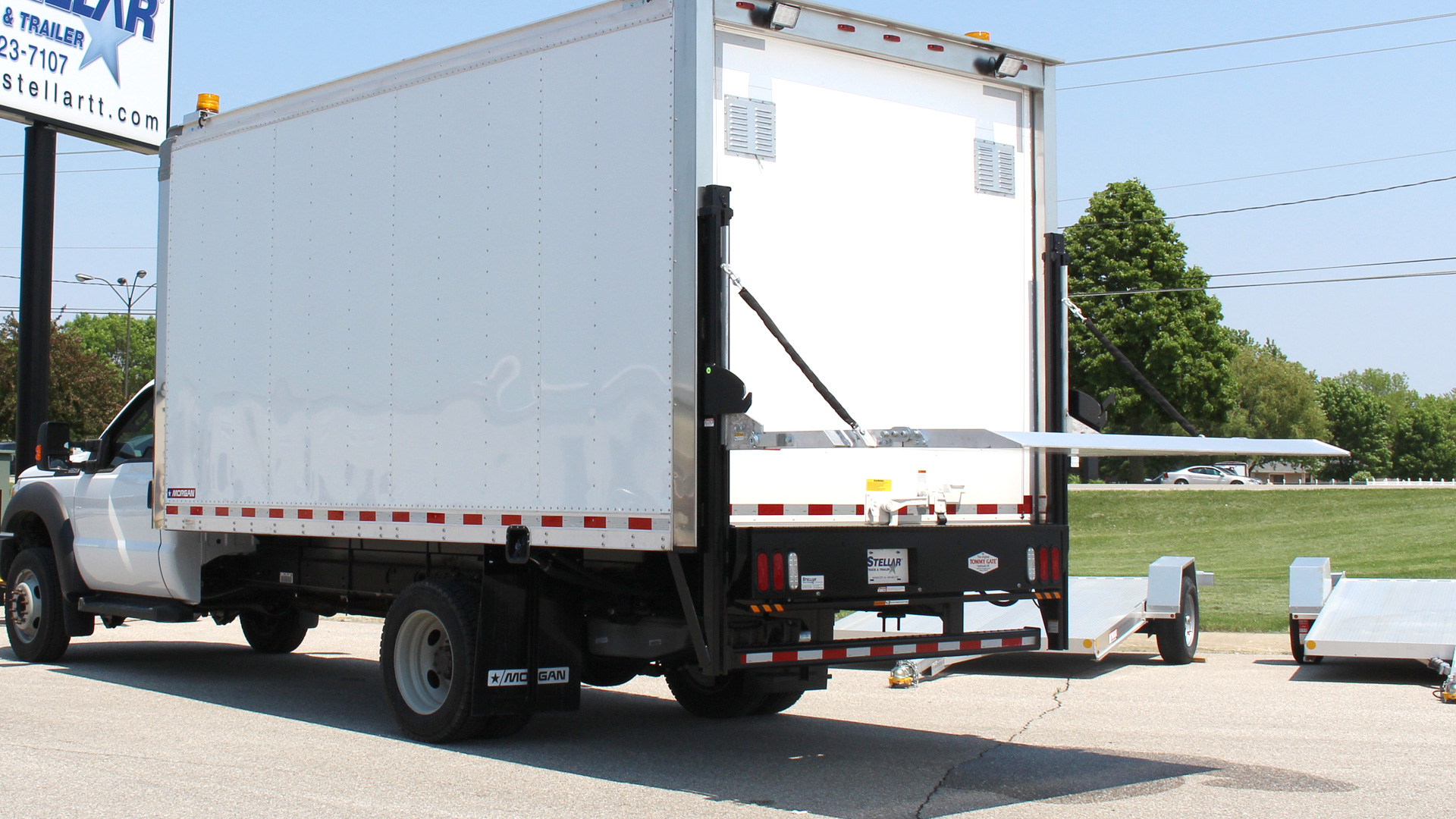 3. What are the vehicle dimensions and specifications?
Vehicle specifications will also dictate which liftgate models are most compatible. Among other considerations, body width and bed height are important factors when selecting the right liftgate.
BODY WIDTH
Straight trucks come in standardized widths ranging from 102-inches wide (on the larger side) down to 80-inches wide (on the narrower end). Since most liftgate model charts are sorted by body width, this is a crucial dimension to know before beginning to select a liftgate. 
BED HEIGHT
The truck's bed height is another important dimension (for a couple different reasons).
One reason is that most liftgate models have a maximum range of travel. The "travel" of a liftgate dictates how far the platform may be raised or lowered. Therefore, if the bed height of the vehicle is greater than the maximum travel of the liftgate, it is most likely not compatible.
Another factor that bed height affects is clearance. If an operator is looking to have a Tuckunder lift installed, then the vehicle must have a bed height tall enough to allow for the liftgate to lower, fold, and then store underneath.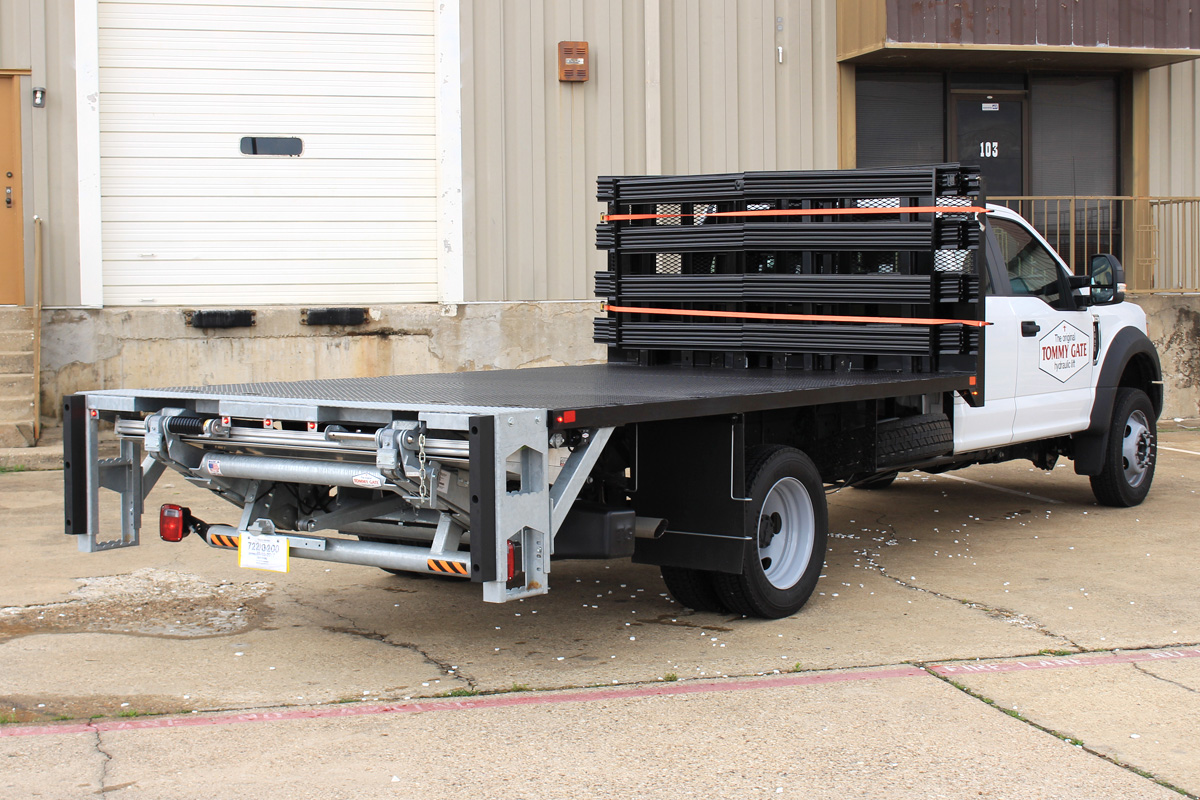 There are numerous variations of liftgates available for flatbed, stake, and van bodies. Truck owners should not only look for a liftgate that properly fits their vehicle, but one that will be ideally suited for the job at hand and offer the greatest amount of convenience.  
For further information, feel free to contact Tommy Gate customer service by phone (1-800-LIFTGATE) or email, info@tommygate.com.
Tommy Gate is always working to design, build, and improve upon the finest liftgates in the world.
Accept no imitations.